Worries that weight loss drugs could slim down consumer staple sales have sent shares down in recent weeks. Some company bosses are even backing this idea: Walmart (US: WMT) chief executive John Furner didn't help matters when he told Bloomberg that customers taking appetite-suppressing medications such as Wegovy and Mounjaro were buying fewer food items in stores.
Shares in Coca-Cola (US:KO) and PepsiCo (US:PEP) have tumbled 8 per cent and 10 per cent, respectively, in the past month as these fears took hold in the market. Procter & Gamble (US:PG) and Unilever (ULVR) fell as much as 6 per cent over the period before recovering half those losses.
Analysts seem divided over exactly how much of a risk the drugs, called GLP-1 agonists, actually pose to snack giants. Morgan Stanley estimates that some 24mn people, or more than 7 per cent of the US population, will be taking them by 2035 – leading to a 3 per cent fall in the consumption of sweets, salty snacks and fizzy drinks.
Large-cap consumer staples companies tend to be some of the most resilient stocks around, even if sales volumes have fallen back slightly in recent quarters. Neither PepsiCo or Coca-Cola saw a major share price sell-off when inflation started to bite, and they managed to continue on an upward trajectory throughout the pandemic. Unilever has proven more volatile, though this is usually attributed to operational issues and internal dysfunction.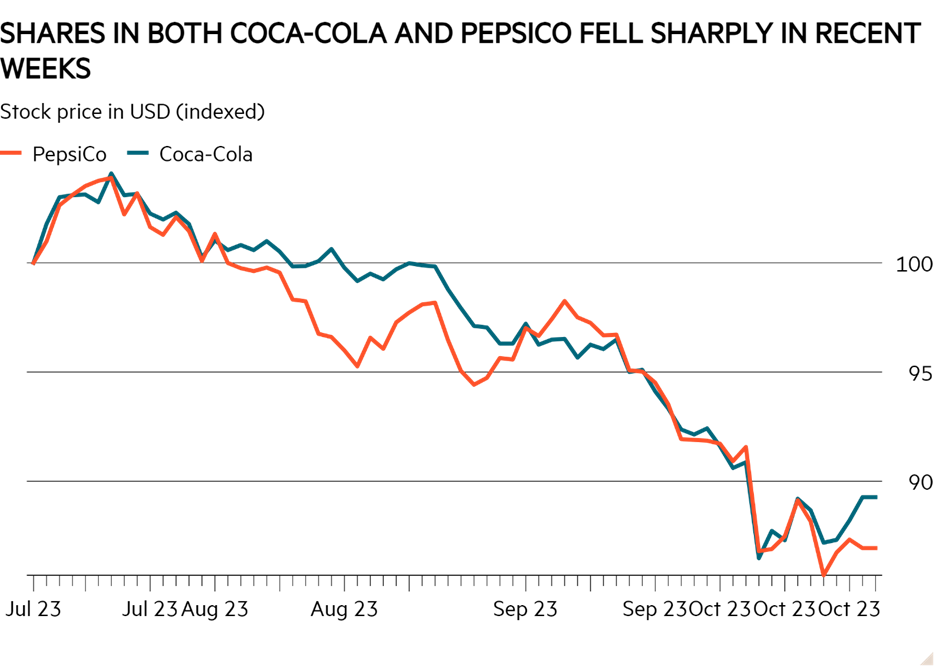 Consumer healthcare stocks are also prized among investors for their defensive qualities and are free from weight loss worries. Shares in Haleon (HLN) are up 3 per cent over the past month, and 5 per cent over the course of the year. At its half-year results in August, management credited the group's "power brands" – a cohort that includes Panadol painkillers and Sensodyne toothpaste – for its organic growth in the first half.
Health-conscious brands 
Given the huge revenue gains seen at manufacturers Eli Lilly (LLY) and Novo Nordisk (DN:NOVO.B), it's clear there is already significant take-up of Mounjaro and Wegovy. But how will the consumer giants respond?
Last week, PepsiCo chief executive Ramon Laguarta said that the impact of weight loss drugs had thus far been "negligible" for the business. However, he did not rule out making tweaks to the food and drink giant's product ranges to accommodate newly health-conscious consumers. For the past five years, the group has been focused on "reducing sodium, reducing fat, reducing sugar [and] reducing the portions of our products," according to Laguarta.  "Those are all very positive trends that will help us deal with the portfolio if needed in the future," he added.
Morgan Stanley analysts think that fast food groups will also be able to adapt, even if they will potentially struggle in the medium term. "Many chains will evolve over time to respond to consumer tastes," said Brian Harbour, who leads the bank's coverage of the US restaurant industry. "Some have invested billions of dollars in stores and concepts to serve these changing preferences." In other words, companies with the financial firepower and the wherewithal to cater to shifting consumer tastes will survive the mass rollout of weight loss drugs.
Manufacturers of artificial hips and knees have been another casualty of the recent GLP-1 panic, if a lower-profile one. Medtech companies Stryker (US:SYK) and Smith & Nephew (SN.) are both down almost 10 per cent over the course of the last month, though they started to regain some of their lost ground this week. This selloff came about as investors uncovered a growing body of evidence suggesting people who lose weight on drugs such as Wegovy may have less need for the likes of knee replacement surgery.
However, analysts at RBC don't think the relationship between GLP-1 use and joint health will be quite as linear as that. This is because some 10 per cent of osteoarthritis patients are considered too overweight to be good candidates for surgery. "We believe GLP-1s are likely to help lower the body mass index for patients, allowing those who could not previously be treated […]  to come into the mix to be treated," they said.
It's also possible that people who lose weight on drugs like Wegovy will become more active, delaying their entry into what RBC calls the "surgery funnel". However, the analysts note that the increased wear and tear on joints, as well as the irreversible and progressive nature of osteoarthritis, could put these patients back into the funnel at a later date. "In a nutshell, we believe the stock reaction to GLP-1s is overdone," the analysts concluded.
Exactly how weight loss wonder drugs will reshape the global economy remains to be seen. For now, widespread pessimism could present opportunities for investors to pick up medtech and big food companies at a relatively low price.